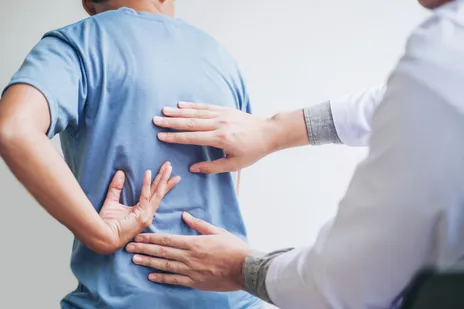 When it comes to most musculoskeletal and soft tissue injuries, which the majority of MDs would prescribe physical therapy for, Dr. JJ can achieve the same or better results from our customized rehabilitation services for a fraction of the cost and in much less time. Complete Family Healthcare's rehabilitation services are implemented into a patient's care with an approach that is more cost-effective and time-efficient versus going through a typical physical therapy program for many health conditions.
Examples of injuries that Dr. JJ can provide rehabilitation for are: sciatica, IT band syndrome or Piriformis syndrome of the hip and legs, plantar fasciitis of the foot, carpal Tunnel syndrome, shoulder or elbow tendinitis, and any neck/mid-back/low back/or pelvic disorder that has not had a history of surgery or metal implanted into the body and/or does not involve a confirmed diagnosis of fractured or congenitally deformed bones.
Our Board Certified chiropractor and licensed massage therapists, along with our state of the art physiotherapy equipment, enables Complete Family Healthcare to provide you with customized rehabilitation services consisting of:
Electric Muscle Stimulation therapy - This machine allows us to perform to sprains/strains, muscle spasms, painful muscles and soft tissue areas throughout the body where inflammation has occurred.
Ultrasound therapy - In combination with electric muscle stimulation or by itself, ultrasound therapy is used to penetrate into the soft tissues and break up the scar tissue commonly associated with most sprain/strains, tendonitis and plantar fasciitis cases.
Hydro-bed therapy - The hydro bed is provided to patients who suffer from chronically sore and stiff joints and muscles of the spine to increase their flexibility and provide them with optimal circumstances for the chiropractic adjustment to be as effective as possible. This machine involves patients lying on their back, fully clothed, while warm water is pushed through high pressure adjustable hydro therapeutic air-enriched jets. The warm water massages away pain, stiffness, and stress.
Spinalator Bed therapy - Our spinalator bed is a mechanical traction therapy which involves a machine that is specifically set according to the area and the intensity that is appropriate for patients. This machine involves patients lying on their back while a mechanical force from the table is applied to their spine to open up and stretch the curvature of the spine vertebra by vertebra to increase the range of motion and prevent the spine from losing the curvature that is necessary for optimal stability.
Flexion /Distraction therapy - This is a procedure provided by the doctors themselves to patients with low back disc injuries that enables specific levels of the spine to be stretched specific ways by hand so that lumbar disc injuries can be specifically addressed.
Cervical Traction therapy - This is provided in a variety of different ways by hand and through protocols with wedges to improve the curvature of the neck that is associated with choice neck pain, headaches/migraines/ and tingling and numbness of the hands and fingers.
Customized Home Exercises - For your specific condition, these are exercise created by the doctor based off of the clinical findings of the examination and findings of each visit seen thereafter. The home exercises are initially performed with you and the doctor in the clinic, specifically designed handouts with pictures and written protocols are provided to you, and modifications of these exercises are made with you throughout care until your condition is corrected.
Massage Therapy - This is doctor supervised and is one of the more common forms of rehabilitation used at Complete Family Healthcare. This doctor provides specific recommendations to the massage therapist of different muscles to be worked on. The most common form of massage is amiofascial release technique. This massage focuses on designated muscles and involves stretches being incorporated within the massage therapy session. The doctor also instructs the massage therapist on procedures to avoid within the massage therapy sessions.
When utilizing our rehabilitation services, Dr. JJ works closely with the therapists and staff to provide a customized protocol of the most effective services.

He monitors and changes these rehabilitation protocols throughout your care according to the results each session provides.
For the time spent, the fees paid, and the results obtained; Complete Family Healthcare rehabilitation services provide you with much more for much less.
We understand that your goal is obtain complete rehabilitation as quickly as possible so that you can return to your normal routine without aches and pains.
Our rehabilitation services combined with chiropractic adjustments to the areas in which you are suffering pain will have you back normal in half the time and costing 1/3 of the price of what MD prescribed physical therapy services will consist of.
Complete Family Healthcare's rehabilitation services are customized to you for a fraction of the cost and in much less time than physical therapy.

Our goal is to get you rehabilitated and back to your normal daily routine.